Our Goals
Promote visibility of old lesbians among themselves, to the LGBTQ communities and to service agencies
Support and empower old lesbians
Challenge ageism, and other isms, within our society
Educate ourselves and the general public about the effects of ageism
Celebrate our strengths, talents and experiences
Collect and preserve the herstories of old lesbians
Leadership
The PS OLOC board, the Queer Crone Coordinating Council (QC3), holds quarterly meetings, including an annual 4-day planning retreat. QC3 collaborates with multiple organizations and with the OLOHP Project and collectively brings over four centuries of professional and life experience to the PS OLOC mission to educate and raise awareness.
Fai Coffin
Deirdre Knowles
Kathy Knowles
Vonda Redden
History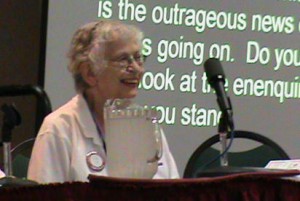 Gloria Stancich, lesbian/feminist activist then living in the Puget Sound area, attended the 1991 International Lesbian Conference (the 1st and only conference of its kind) in Atlanta, GA. There were 2500 registered lesbians. There, Gloria first met the newly formed organization, Old Lesbians Organizing for Change (OLOC). Excited by the no-nonsense demeanor and message of this group, she headed for their conference caucus where author Barbara McDonald (author of Look Me in the Eye) was speaking. As she had in her book, Barbara stressed the need of old lesbians to speak out, gain political strength, spotlight the needs and work for the empowerment of old lesbians. Four years later, Gloria became a full member and saw a cause for which she could expend energy to further her civil rights work during the Equal Rights Amendment campaigns of the late 1970s – early 1980s. Still, it wasn't until 2007 that Gloria and other Puget Sound lesbians, who had long been working with other LGBT groups to gain civil rights, met for the first time at the Wheelock Library in Tacoma as PS OLOC.
Member Stories

A few women share their thoughts on being a part of PS OLOC.
Kathy, 82 years old
My partner Kelsey and I lived here on the farm in Olalla (Kitsap) for 30 years. She passed four years ago and I had no community. Finding PS OLOC in March, 2014—what a gift! Now I host two PS OLOC-West events a month (bbq's, cards & games, video—or we go out for lunch together). I had 16 women here—all without (biological) family–for Thanksgiving, 2014. My life is wonderful with my PS OLOC women friends.
Diane, 76 years old
Ever since the PNW OLOC Gathering in Tacoma (2011), my life as an old lesbian has gotten richer and richer with all the opportunities of meeting old lesbians and supporters, so many things to do and women to do them with; opportunities to stretch my thinking and especially building supportive relationships. In my younger years, I may have hung out in crowded, dim, noisy bars hoping someone would not only notice me but want something a little more. But especially as a single lesbian, connections/friendships seemed to constantly elude or be of short duration. How much nicer and easier to meet old lesbians in the daylight, for us to have matured, grown, gained comfort in sharing friends, especially today, the possibility and safety of being out in public in ways not possible when we were young. I say that it's a great time to be an old lesbian! Thank you, PS OLOC, I am deeply grateful.